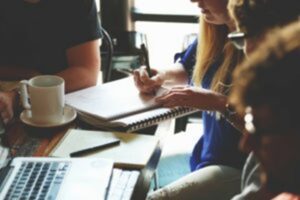 As part of Junior League of St. Louis' (JLSL) ongoing commitment to developing the potential of women, JLSL offers volunteer and leadership development training to our members as an integral part of our mission.
Training Courses offered by the JLSL are used to enhance the overall experience and both the professional and personal development of each JLSL member.  Training sessions offer deeper exploration of specific leadership development topics and are generally free of any additional cost to JLSL members.
As part of the League's community impact, most training sessions are also available to community members for a small fee.
2023-2024 JLSL Training Sessions
All courses are held at JLSL Headquarters, 106 N. Kirkwood Rd., Kirkwood, MO 63122 Pre-registration required, either online or call 314-822-2344.  All fees are non-refundable. Courses last approximately 2 hours each

JLSL 2023-24 Training Course Descriptions - Click any title to purchase

August 28, 2023  6:30 pm – Dare to Lead
How to Lead effective meetings, Use of agendas and minutes, Development of Committee Work Plans, Delegating, Reporting Out, Sharing Information, Utilizing Your Budget, and Year End Evaluation and Transition.
                                                                                                                                   JLSL Members – Free & Non Members – $15
September 18, 2023  6:30 pm – Personality Testing – DISC
Take the DISC test and learn how to use this information to impact your team building and team effectiveness.  Learn how to better deal with conflict management.  Realize how to work more efficiently and positively utilizing information on how others best work, respond and contribute.  A useful tool for talent management in both the volunteer and work worlds.  Taught by a certified DISC trainer.
JLSL Members – Free & Non Members – $35
October 2, 2023  6:30 pm – Grant Writing
Learn the ins and outs of grant writing, including finding grantors, designing a compelling and informative application, and follow up needed to maintain a grant.  Taught by a college professor specializing in grant writing.
JLSL Members – Free & Non Members – $15
November 1, 2023  6:30 pm – Taking the Stress Out of the Holidays
Take a proactive approach to this holiday season by starting your preparations now.  Learn some tricks from some 'hostesses with the mostess' to see how they stay organized for the season's festivities and also learn some fun, creative ways to decorate, wrap gifts, and keep those kiddos occupied during school breaks.  A fun girls' night out.  Each participant may bring two gifts to wrap during the session and are welcome to bring food and wine.
                                                                                                                                 JLSL Members – Free & Non Members – $5
November 29, 2023 6:30 pm – Technology and Mental Health for Adolescents     
A recent study published in the Journal of American Medicine Association (Aug 2023) Link found that there is a link between checking in on social media and the adolescent brain. Hear strategies that you can implement in your family's life to proactively huddle with your child to prepare them to make thoughtful decisions when it comes to technology and social media. These strategies prepare parents to guide their children in making character-based decisions and build Social Emotional resilience.  Our speaker, Lisa Barry Jenkins, has worked in educational technology for 17 years, guiding teachers, students, and families in healthy technology practices.
                                       JLSL Members – Free & Non Members – $15
January 22, 2024  6:30 pm – Community Advocacy                                            
 JLSL Members – Free  & Non Members – $15
January 27, 2024  – Diversity, Equity, Inclusion, and Belonging Summit                       JL Members Only
February 21, 2024  6:30 pm – Budgets and Financial Management
Every organization, company, and household has money to manage.  Learn the basics of knowing how to read your financial statements and set realistic budgets.  Get ideas for what to do when reality doesn't match up to expectations.
JLSL Members – Free & Non Members – $15
March 20, 2024  6:30 pm  – Gardening 101
Get ready for Spring and learn about a wide range of gardening topics from a Master Gardener, from how to keep a houseplant alive, to container gardening, to some hints on how to use what you sow.
JLSL Members – Free & Non Members – $5
March 27, 2024  6:30 pm  – Anatomy of a Fundraiser and Other Project Management
Learn how to run a successful fundraiser or other project.  From researching ideas, procuring venues, attracting sponsors and attendees, establishing and following a budget to actual event management and evaluation.
                                                                                                                              JLSL Members – Free & Non Members – $15
April 22, 2024  6:30 pm – Coaching and Mentoring
What does it really mean to be a Coach or a Mentor?  How do you find one or become one.  This course discusses both sides of these unique relationships.
                                                                                                                              JLSL Members – Free & Non Members – $15
May 13, 2024  6:30 pm – Volunteer Management
Learn how to attract, engage, satisfy and retain volunteers for your cause.
JLSL Members – Free & Non Members – $15
EARN A JLSL LEADERSHIP DEVELOPMENT CERTIFICATE
JLSL members who attend 6 or more of the starred (*) sessions will receive a Leadership Development Certificate at the Annual (May) Meeting.
Non-members can also receive a certificate, but without attending a MG or BOG meeting.
Volunteer Training in JLSL 
On average, JLSL members combined complete more than 5,500 hours of training per year, better preparing members to make a positive impact in St. Louis and our surrounding areas.
JLSL improves the community through the effective action and leadership of trained volunteers. Starting in their first few months JLSL members learn about many of the social issues that contemporary St. Louis faces, from startling infant mortality rates to lack of access to health care to food deserts that make it hard to find healthy, affordable food. This training happens through smaller team meetings, as well as at our large-scale General Membership Meetings.
We also introduce members to a variety of community partner organizations that actively address these issues. Throughout the year, members participate in Community Impact projects to contribute to our community partners' work in action.
Often, the leadership training our JLSL members receive helps them advance professionally, as well. Many members have changed careers or advanced in their workplace, thanks to skills developed through their JLSL service. Opportunities to take on roles in fundraising, including learning how to make successful asks; team building, including leading groups of women ranging in size from five to 50; and community impact nonprofit work often lead our members to find new skills and passions.
JLSL members are well-equipped to take on greater volunteer opportunities in the community. Many of our members sit on boards of other local nonprofits and lead volunteer efforts at their workplaces and in their personal lives. Additionally, a number of JLSL members have gone on to put their leadership development training to work in the state and national political scenes.