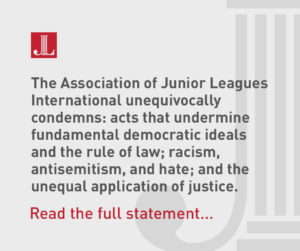 On January 6, 2021, Junior League Members around the world witnessed what was irreconcilable with our values: a direct and violent insurrection at the U.S. Capitol and on the pillars of American civic leadership. We unequivocally condemn: acts that undermine fundamental democratic ideals and the rule of law; racism, antisemitism, and hate; and the unequal application of justice.
We affirm our civic responsibilities and believe:
In debate, not destruction;
In voting, not violence;
In the diversity of races, not racism;
In freedom of religion, not religious persecution; and
In inclusion and belonging, not division and discord.
Together, we will advance equity and accountability and work to dismantle systemic racism and religious hatred.
The Junior League supports the peaceful transition of power and is committed to work with all who share our values of respect, collaboration and civil discourse.