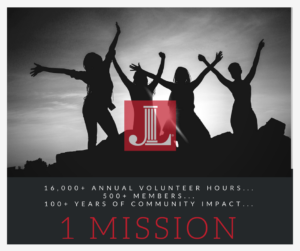 Since 1914 the Junior League of St. Louis (JLSL) has been committed to promoting voluntarism, developing the potential of women, and improving communities through the effective action and leadership of trained volunteers.  
 Membership is open to all women who demonstrate an interest in and commitment to voluntarism. The JLSL has over 500 members, and as a member of the Association of Junior Leagues International, is one of nearly 300 Junior League chapters in the U.S., Canada, Mexico, and the United Kingdom. 
Why Join Us?
Are you looking for a way to meet new friends, give back to the community, and grow as a leader? JLSL would be a great fit for you! Our Active members range from business owners to stay-at-home moms, high-heel wearers to running shoe aficionados, recent college grads to retirees. Each one of these more than 500 women joined JLSL for her own reasons, and we all stay because we believe that we can make an impact on our world. 
 Our members are a group of women, looking to make a difference in their community through volunteer projects, fundraising events, and social activities that provide hands-on experience building leadership skills and friendships.  
 The League welcomes women who value their mission. We are committed to inclusive environments of diverse individuals, organizations, and communities. Come and share your skills and learn with us as we continue to look for meaningful ways to impact our communities and to bridge the gap between society's needs and existing community resources
How to Join Junior League of St. Louis
JLSL welcomes inquiries for new members all year. If you are interested in becoming a member of JLSL, please attend any of our Informational Sessions to learn more about our organization. We hold several events each year to introduce you to what we do and explain how to join The Junior League.  The next JLSL New Member Program will start again in the late summer of 2023.
New Member Information Sessions: 
There are no information sessions scheduled at this time. If you are interested in becoming a member please reach out to recruiting@jlsl.org.
Requirements to become a member:
You are a woman at least 21 years of age;
You reside within the St. Louis Metropolitan area or surrounding counties;
You're excited, enthusiastic, energetic, and interested in growing and learning through voluntarism;
You embrace the JLSL mission and commitment to diversity, equity, and inclusion; and
You're willing to tailor your volunteer experience to meet your own needs and schedule.
New Member Class Fees
The fees to join a New Member class include a New Member Training Fee of $110 and New Member JLSL Dues of $170, for a total of $280.  Fees should be paid prior to the first New Member class.  Please speak with the New Member Team Lead if you need need assistance paying any fees.
Following your new member year, JLSL dues are $250 per year.  The JLSL year runs from June 1 – May 31, and dues are assessed in April.  For example, for the membership year 2022-2023 (June 1, 2022 through May 31, 2023), those dues are payable by April 25, 2022.
Please note that your JLSL dues also include your AJLI (Association of Junior Leagues International) annual dues.

---
Frequently Asked Questions
Can I join JLSL at any time?
The New Member program typically runs half a school year, with a Fall and Spring New Member class.  Fall classes begin in August and run through December and Spring classes begin in February or March and run though May.  Some years, only one New Member class (Fall) will be offered. 
I can't attend one of the recruitment events – can I still join?
Of course! If you are unable to attend one of our events, you can complete the New Member Enrollment Form and Contract to get your JLSL journey started! 
What do you need from me to register as a new member?
Just a few things. You will need to complete a New Member Enrollment Form and Contract. All New Members must also pay a registration fee to help cover training materials. 
When will I find out if I got into JLSL? 
If you have submitted your New Member Enrollment Form and Contract along with your registration fee by start of the your New Member session, you're in! 
What can I expect in my first year at JLSL? 
You will be divided into small groups of New Members (usually about 10), each with an advisor who will walk you through your first year. The full New Member class will meet several times throughout the year, so you'll have the chance to get to know other women in your class. 
Together, you'll participate in a sampling of the many activities Junior League offers, such as Community Impact volunteer projects, training workshops, fundraising events, meetings and social activities. 
On average, you can expect to have at least two meetings or activity each month (though many members have so much fun they choose to do more!). 
I'm interested in joining, but I'm worried my work/personal life will be crazy this year. How flexible is JLSL?
Very flexible. While every member is expected to complete a certain number of activities, there are many opportunities to choose from to fit even the busiest schedule. We also understand that life happens and can always work with members to find alternative activities to help you fulfill your requirement.