Leadership Training Opportunities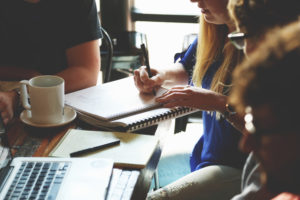 As part of Junior League of St. Louis' (JLSL) ongoing commitment to developing the potential of women, JLSL offers volunteer and leadership development training to our members as an integral part of our mission.
On average, JLSL members combined complete more than 5,500 hours of training per year, better preparing members to make a positive impact in St. Louis and our surrounding areas.
Volunteer Training in JLSL 
JLSL improves the community through the effective action and leadership of trained volunteers. Starting in their first few months JLSL members learn about many of the social issues that contemporary St. Louis faces, from startling infant mortality rates to lack of access to health care to food deserts that make it hard to find healthy, affordable food. This training happens through smaller team meetings, as well as at our large-scale General Membership Meetings.
We also introduce members to a variety of community partner organizations that actively address these issues. Throughout the year, members participate in Community Impact projects to contribute to our community partners' work in action.
Often, the leadership training our JLSL members receive helps them advance professionally, as well. Many members have changed careers or advanced in their workplace, thanks to skills developed through their JLSL service. Opportunities to take on roles in fundraising, including learning how to make successful asks; team building, including leading groups of women ranging in size from five to 50; and community impact nonprofit work often lead our members to find new skills and passions.
JLSL members are well-equipped to take on greater volunteer opportunities in the community. Many of our members sit on boards of other local nonprofits and lead volunteer efforts at their workplaces and in their personal lives. Additionally, a number of JLSL members have gone on to put their leadership development training to work in the state and national political scenes.