Junior League of St. Louis Cinnamon Rolls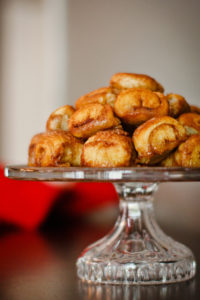 Are available for purchase from our Gift Boutique at
106 N. Kirkwood Road, Kirkwood, Missouri.
The Boutique is Open Tuesday-Friday 10am-4pm and
most Saturdays 10am-4pm.
If front door is locked, please ring the doorbell.
Junior League of St. Louis' Cinnamon Rolls
In the early 1940s, the JLSL headquarters were located in the Central West End, next door to Saks Fifth Avenue. At the time, part of JLSL's community outreach revolved around a small kitchen and Tearoom where members not only served food, but also developed JLSL recipes.
JLSL lore has it that a devoted member and a few of her friends happened upon the idea of creating a JLSL Cinnamon Roll, and they spent hours in the kitchen perfecting the recipe. Almost instantly, the Cinnamon Roll was a mainstay on the Tearoom menu, and baking became a daily operation. By the 1960s, JLSL Cinnamon Rolls were a St. Louis classic, with hundreds baked for luncheons and parties – and you can imagine what the holiday season baking was like!
When JLSL moved from Frontenac to Des Peres in 2005, internal production of the Cinnamon Roll ceased. Three years later, a group of Sustainers worked diligently to replicate the recipe, and JLSL Cinnamon Rolls were reborn.
Now, both Active and Sustaining members, along with a highly vetted local bakery, produce thousands of Cinnamon Rolls each year, with the most dedicated bakers "earning their aprons" by working five or more shifts throughout the JLSL year.  (*Member baking has been on hold during COVID-19).  If you can't make it by JLSL Headquarters, our Cinnamon Rolls are also available at these locations:
Freddie's Market
Straub's Clayton
Straub's Town & Country
Straub's Webster Groves
Straub's Central West End
The Art of Entertaining
The Woman's Exchange
The Smokehouse Market
Baumann's Fine Meats              
If you would like to carry Junior League of St. Louis Cinnamon Rolls at your restaurant or business, please contact jlslcinnamonrolls@jlsl.org.
To inquire about reserving an order of cinnamon rolls for pick up, please call (314) 822-2344.