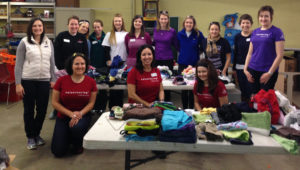 Junior League of St. Louis (JLSL) provides more than 100 Community Impact volunteer opportunities throughout the year for our trained volunteers to support organizations within our community with short-term events.
How do we select a Community Impact volunteer opportunity?
We have established strong relationships with many local organizations and provide St. Louis volunteer opportunities for their non-fundraising events to support community needs.
JLSL is focused on a five-year initiative to reduce the infant mortality level in greater St. Louis, starting in 2016. Beginning with the 2016-17 League year, at least 50 percent of our Community Impact volunteer shifts focus on this issue area. True to our roots, though, JLSL is committed to the greater St. Louis area through other volunteer opportunities for its members.
The Junior League of St. Louis (JLSL) invites all eligible agencies to submit an application for JLSL support. Your agency must be a 501(c)(3) organization that provides JLSL volunteers with meaningful, high-quality volunteer opportunities, including flexibility in the times available for volunteer work. JLSL looks for agency programs that will develop the potential of our women and empower them to make positive community change, specifically in the areas of infant mortality and safe sleep. JLSL looks for these programs to have a measurable impact on your agency and the populations that you serve.
Application Process
Project applications must be submitted at least 4 weeks prior to the event/date on which volunteer assistance is requested.
Each application will be reviewed by the Community Impact Team to ensure it meets the criteria listed below.
Applicants will receive an acknowledgement of application receipt from the Community Impact Team and will be informed as to the status of the application as soon as possible. Applicants may be requested to provide additional project details as needed.
Criteria for Eligibility
Applicants must have a 501(c)(3) tax designation or demonstrate a significant and primary commitment to charitable purposes.
Project must state clearly defined goals and objectives.
Project must take place within JLSL's membership area.
Project may not involve fundraising for your organization or concern political or religious matters. Volunteers will not be provided for administrative needs.
All promotional materials that contain JLSL's name and logo should be approved by the President and Communications Chair prior to use. Applicants agree to give JLSL appropriate sponsor credit by including the JLSL name and logo on advertising, flyers, brochures, other written materials and social media created to advertise the event or project.
**Additional criteria may apply during Covid-19
Review Process
Each application will be reviewed by the Community Impact Team and evaluated on the following criteria:
Purpose
Community need and impact
Volunteer opportunities
Partnership opportunities
Apply for Volunteer Support Here.