Tea & Book Signing with St. Louis author Kelsey Gietl: April 27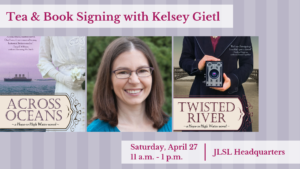 Join us for morning tea and discussion with St. Louis historical fiction author Kelsey Gietl. Set during the 1910's, Kelsey's internationally-sold Hope or High Water series takes readers on an emotional voyage of life, love, and family loyalty, charting a course from Edwardian England to familiar—and perhaps a few unfamiliar—locations in St. Louis. Kelsey will answer questions around her writing process, the inspiration for her books, and her next novel set during The Great War. Attendees are encouraged to pre-submit questions at kelseygietl.com/contact. Following the discussion, Kelsey will be available for book signing. Books will be available to purchase at the event or can be purchased in advance through Amazon.com. All are welcome to attend!
10% of book sales on the day of the event will be donated to JLSL.