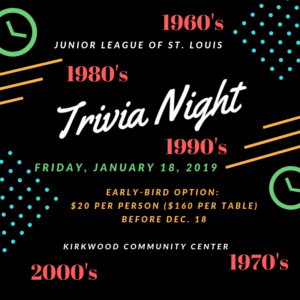 Annual trivia night supporting the Junior League of St. Louis' training and community programs.
This year we had a decades theme. Five of the rounds of trivia will be from the 1960s, 1970s, 1980s, 1990s and 2000s.
Attendees were encouraged to decorate tables and dress up.
The fun evening was held at the Kirkwood Community Center, 111 S Geyer Rd, 63122.
Doors opened at 6 p.m., with trivia competition started at 7 p.m.
All tickets included beer and refreshments.
There were raffle prizes, a 50/50 drawing as well as a silent auction!
Trivia teams were tables of 8.
This event was open to the public, the event supports JLSL's mission, including offering our members volunteer and leadership training opportunities.