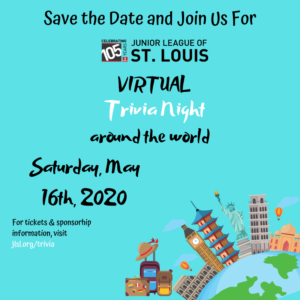 The 10th Annual Trivia Night supporting the Junior League of St. Louis' training and community programs is going VIRTUAL on Saturday, May 16, 2020. This year's theme is Around the World – join us as we travel around the world from the comfort of your home.
There will be a live event on Saturday, May 16, 2020 at 7:00 p.m. consisting of 6 rounds of 10 questions. You can play individually or as a team.
Beginning on Sunday, May 17, 2020 through Sunday, May 24, 2020, you can opt to play an on-demand trivia game with 10 rounds of 10 questions at your own pace.
Participants will receive a link to join the live or on-demand trivia games on Saturday, May 16th, or upon registration. Trivia game play will be available through crowdpurr.com and the unique access code you receive. Individuals can submit their own answers. Teams can set up conference calls, Zoom meetings, or FaceTime calls, to collaborate together. Teams can have a captain to submit all team answers, or the system will average the team's individual scores if multiple people log in under the team name. The website link will display each question and will allow 1 minute for a response from the individual or team.
Mulligans will add one additional point to each round's score (maximum of +1 point per team or individual).
Registrations from the in-person event previously scheduled in January will are valid for the Virtual Trivia Night.
Stay tuned for additional details for our online silent auction and popular stock the bar raffle!
Ticket purchases are non-refundable.