Leadership Development Series – Negotiation – Creating Value at the Negotiating Table – Jan. 16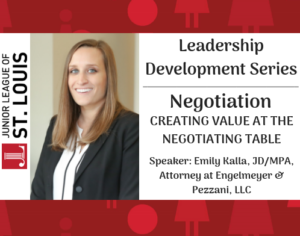 Join the Junior League of St. Louis as we welcome Emily Kalla, JD/MPA, Attorney at Engelmeyer & Pezzani, LLC.
Emily Kalla is an attorney at Engelmeyer & Pezzani, LLC, a St. Louis general litigation and transactional law firm. She represents individuals, corporate entities, and municipalities in a wide range of civil and criminal issues. Emily's litigation practice includes criminal defense, contract disputes, business torts, employment, personal injury, and family law. Further, Emily represents individuals and corporate entities in a wide variety of transactional matters.
Emily earned her BA at Truman State University and a dual JD/MPA from the University of Missouri. While in law school, Emily also obtained her Certificate in Dispute Resolution and took courses focused on negotiation and other alternative dispute resolution topics.
Emily's practice requires her to advocate for her clients on a daily basis, which has allowed her to hone her negotiation skills. She believes confidently understanding your position and standing up for yourself can lead to results that benefit all parties involved.
Leadership Development Series Classes are offered to Non-Junior League of St. Louis members for a fee of $20.
JLSL members: please log in and register through the member calendar.