Day 366 Spring Diaper Drive – April 1-30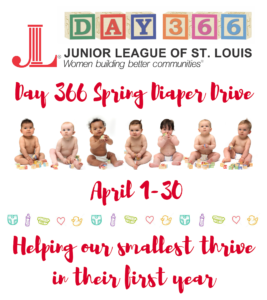 In the greater St. Louis area, too many babies die before their first birthday. In the City and County of St. Louis, the equivalent of 15 Kindergarten classrooms of babies are lost each year. The infant mortality rate in St. Louis is double the national average. We can certainly do better and with your help, we will!
It is the Junior League of St. Louis' (JLSL) goal to help St. Louis' smallest thrive in their first year through our Day 366 Initiative. The components to achieving success include education, advocacy and community impact.
Since 2016, JLSL has been working to provide our under-resourced area families with basic baby necessities. What might seem basic to many of us is a luxury to many of our neighbors and has a profound effect on their lives.
Diapers are not covered under any federal assistance programs
Day cares require that diapers be provided in order to leave your baby

No diapers = No daycare = No work = Possible job loss = A cycle of need

Access to baby necessities is challenging for families without reliable transportation; forcing the reuse of diapers or purchasing small quantities at high prices close by
We are looking for help in collecting the following:
Diapers size N, 1, 2, 3, 4,5, 6 and training pants (opened packs are welcome)
Diaper rash cream
Baby wipes
Plastic baby bottles (new)
Capitalizing on our 2018 baby necessity drive success wherein we collected over 50,000 items, our 2019 collection drive will run from April 1 through April 30 with a goal of an additional 50,000 items.
Thank you to our community partners who have joined the JLSL in collecting items throughout the month of April:
Look After Hair Company-Lake Saint Louis
Café Piazza
The London Tea Room
Psi Chi at Lindenwood-Belleville
Bonboni Home & Gift Co
Shrewsbury Recreation Department
Ballas Anesthesia at Missouri Baptist Medical Center
The Clark Academy of Irish Dance in Crestwood
We Rock the Spectrum-Fenton
Vetta Sports-St. Charles
Grandma's Playroom
We Rock the Spectrum-North County STL
Fifth Third Bank-Clayton
TravelHaus
Fresh Pasture Farms
Sienna Bast's 1st Birthday Party
Junior League of St. Louis
Jane Bracher's Birthday Party
Shana Watkins Photography
Lily Pulitzer Plaza Frontenac
Cardinals Staff Office
Cortex Innovation Center
Clementines Creamery
Wellbridge Athletic Club & Spa
The Flooring Source
State Farm in Sunset Hills
Momentum Agency
Merrill Lynch -2 locations Clayton and Ladue
Burn Boot Camp-2 locations Manchester and O'Fallon
Esse Health at DePaul
Salon Linda G
20 Minutes to Fitness-2 locations Clayton and Chesterfield
We hope that by providing basic necessities for St. Louis area families, we can reduce the toxic stress families face on a daily basis, and thus allow our smallest to thrive and grow into tomorrow's leaders.
If you have any questions, please do not hesitate to contact the JLSL at 314-822-2344 or Day366@jlsl.org.