Home Design Tour – June 22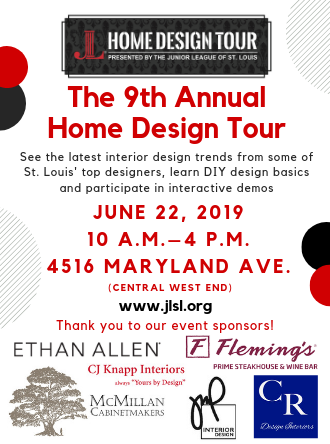 TICKETS AVAILABLE AT THE DOOR
Inspiration awaits at the 9th Annual Home Design Tour on Saturday, June 22, 2019. This classic gem in the Central West End, just off Maryland Plaza, has been redesigned with the latest and greatest in fabrics, furniture, fixtures and more. St. Louis area designers such as The Ethan Allen Design Center from Chesterfield, Missouri, Pottery Barn Frontenac, Jeanne Lashmett and more have reimagined this home to blend the classic with up to date style.
This self-guided tour will also showcase the latest in-home DIY, personal style, self-care and even urban backyard chickens. DIY make-n-takes from Perennial will be conducted throughout the day, as well as Bonboni's Bonnie the Truckster and Hamspa Aesthetics Mobile Spa available for your perusal and enjoyment. Flemings Steakhouse St. Louis will dazzle you with light bites throughout the day, while local mixologists will quench your thirst with refreshing concoctions. The Home Design Tour is a great resource for anyone looking to renovate or rejuvenate or who simply dreams about a fabulous designer home. Visit this exclusive Central West End home to see creative designs and demonstrations for every room inside and out.
This year's exciting designer showcase house style event promises style, design and demos all in one. Due to having a single location and being mindful of flow, we are staggering entries into three groups. Please pick the entry time that works best for you. If your day goes sideways, you can still come a little late. We are excited to see you there!
---