Day 366 Fall Baby Necessities Drive – Sept. 14-29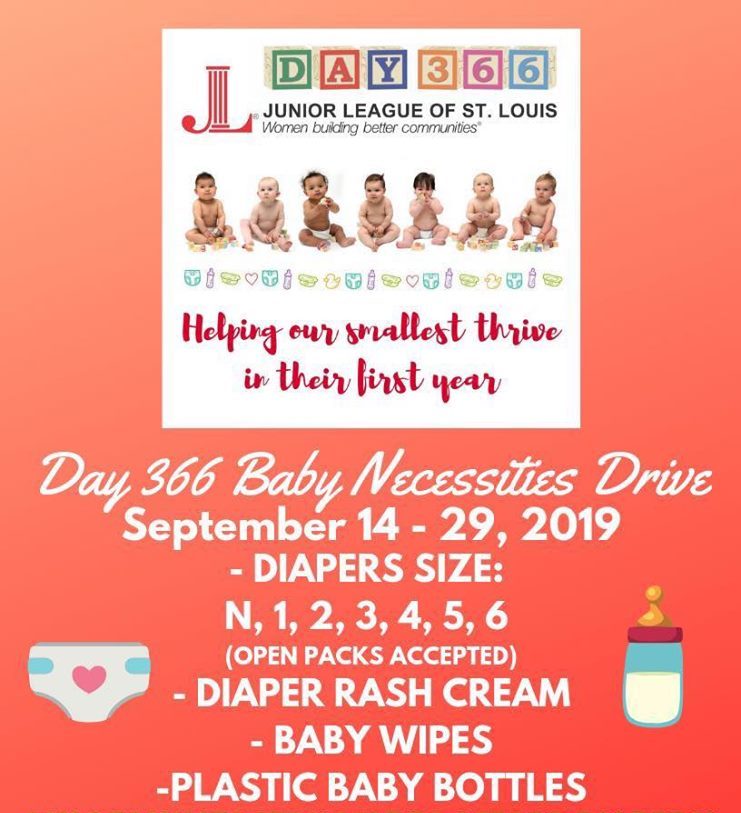 In the greater St. Louis area, too many babies die before their first birthday. In the City and County of St. Louis, the equivalent of 15 Kindergarten classrooms of babies are lost each year. The infant mortality rate in St. Louis is double the national average. We can certainly do better and with your help, we will!
It is the Junior League of St. Louis' (JLSL) goal to help St. Louis' smallest thrive in their first year through our Day 366 Initiative. The components to achieving success include education, advocacy and community impact.
Since 2016, JLSL has been working to provide our under-resourced area families with basic baby necessities. What might seem basic to many of us is a luxury to many of our neighbors and has a profound effect on their lives.
Diapers are not covered under any federal assistance programs
Day cares require that diapers be provided in order to leave your baby

No diapers = No daycare = No work = Possible job loss = A cycle of need

Access to baby necessities is challenging for families without reliable transportation; forcing the reuse of diapers or purchasing small quantities at high prices close by
We are looking for help in collecting the following:
Diapers size N, 1, 2, 3, 4,5, 6 and training pants (opened packs are welcome)
Diaper rash cream
Baby wipes
Plastic baby bottles (new)
Our fall goal is to collect 25,000 items to bring our 2019 total to 100,000 items collected.
Check out our JLSL Baby Necessities Drive Wishlist: https://smile.amazon.com/hz/wishlist/ls/37SOD1KXXA460/ref=cm_go_nav_hz
We hope that by providing basic necessities for St. Louis area families, we can reduce the toxic stress families face on a daily basis, and thus allow our smallest to thrive and grow into tomorrow's leaders.
Collection Locations:
Truman Middle School
Paradise Valley Golf Club
Pickard and Helmkamp Orthodontics (11810 Gravois Rd. Ste 101 and 121 Baxter Shops)
DaVita Dialysis (3 locations)
Lindenwood University – Belleville (2600 West Main Street, Belleville IL)
Lindenwood University – St. Charles (209 S. Kingshighway, St. Charles MO)
Shrewsbury Recreation Department
Wellbridge Athletic Club (7676 Forsyth Blvd. 2nd floor front office Clayton, MO 63105)
Saks Fifth Avenue in Frontenac
If you have any questions, please do not hesitate to contact the JLSL at 314-822-2344 or Day366@jlsl.org.