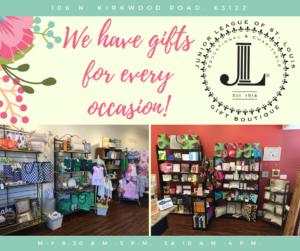 As one of its ongoing fundraisers, Junior League of St. Louis hosts a store-front gift boutique at the JLSL Headquarters in Kirkwood, Missouri. Staffed by JLSL members, we offer an ever-changing inventory of fun, creative gifts perfect for birthdays, anniversaries, hostess gifts, or just because.
Products range from monogrammed bags and handmade children's room décor to whimsical wine glasses and decorative pillows. For League members, we sell a few Junior League-branded pieces. We have a selection of award-winning Junior League cookbooks from Leagues across the world, as well as fun children's books and activities, and unique children's clothing.
The JLSL Boutique follows many of the downtown Kirkwood special shopping days, including Thursday night shopping events (open until 8:30 p.m.), Sidewalk Sales in the summer, the Halloween Walk, and the Holiday Walk.
You never know what one-of-a-kind gift you'll find at the JLSL boutique, whether it's for a friend or yourself!
JLSL Boutique Hours
Weekdays 8:30 a.m.-5 p.m.; Thursdays until 8:30 p.m.
Saturday 10 a.m.-4 p.m. (hours may vary)
Closed Sunday