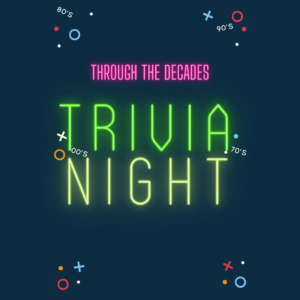 JLSL's 13th Annual Trivia Night!!
The event will be held on Friday, February 10, 2023 at The Kirkwood Community Center.
Kirkwood Community Center, West Gym
111 S. Geyer Road  
Doors open at 6 pm, with Trivia starting at 7 pm.  
Open to both Members and the Public
Ticketing Options:

Early Bird (prior to January 3rd):

-$30 Per Person

-$240 per table of 8

-VIP Table $275

Regular Pricing:

-$40 per person

-$320 per table of 8

-VIP Table $360

Individual tickets come with 2 drink coupons.

VIP tables include 10 mulligans and unlimited drinks.
We will be offering the option of having food delivered right to your table.  Orders should be placed at the time of ticket purchase and must be received by January 23, 2023.
Options include:
Jimmy John's Tray: 6 – 8″ sandwiches cut into 3 pieces  Two Sandwich Options  $55
Option 1:  2 Ham & Cheese, 2 Turkey, 1 Vegetarian, and 1 Italian
Option 2:  2 Ham & Cheese, 2 Turkey, 1 Roast Beef, and 1 BLT
All sandwiches come with lettuce and tomato with mustard and mayo on the side
Pretzel Boys Trays: Three tray options $25
Nugget Party Tray – Includes 72 nuggets
Mini Pup Party Tray – Includes 40 mini pups
Combo Party Tray – 36 nuggets and 20 mini pups
          Mulligans will be available for $20 for 10.
To Sponsor this event please contact the Junior League of St. Louis office at (314) 822-2344 or trivianight@jlsl.org.

Proceeds from this event support the Junior League of St. Louis' training and community programs.