2020 Virtual Holiday Mart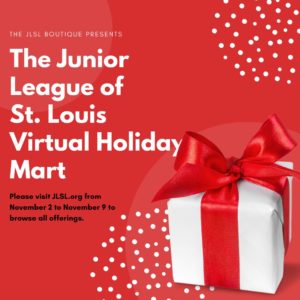 November 2nd – November 9th
www.JLSL.org
Junior League of St. Louis website
---
The Junior League of St. Louis is Proud to Present its Annual Holiday Mart Virtually This Year. From November 2nd to November 9th, guests may shop from the comfort of their home on our website. Please visit www.JLSL.org to explore all the options for the holiday mart this year.
2020 Virtual Holiday Mart Vendors 
Abby Keough Custom Creations 
A St. Louis jewelry artist who creates unique necklaces, bracelets, and earrings.
Cypress Linen
High quality bedding needs at a low price.  A great night's sleep can be affordable.
Embellishments Adorned 
https://www.instagram.com/embellishmentsadorned/?hl=en
Adorning your uniqueness with fashionable accessories to compliment any outfit.
Everything Micheal
A children's book that encourages STEM.  Rated number 1 on Amazon's Hot new releases.
Fitkyt  
Exercise equipment and athletic apothecary shop. Inspiring you to keep energized and creating balance in your life.
 "Get 15% off with the coupon code of JLSL1914"
Knotty kid
  https://www.etsy.com/shop/weareknottykid
Edgy assortment of hand-made toys and costume accessories.
A Luster Pearl 
https://www.etsy.com/shop/ALusterPearl
Wonderful jewelry featuring pearls, pearls, and pearls.
Maggie B's Homemade Treats
Beautifully decorated cookies and other desserts.
Usborne Books & More
https://v7436.myubam.com/1852220
A wide selection of children's book and other fun activities.