9th Annual Strong Women & Families Health & Resource Fair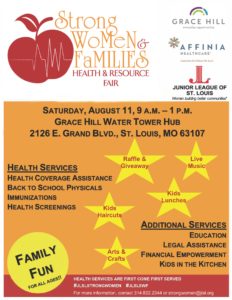 Junior League of St. Louis (JLSL) hosted its ninth annual Strong Women & Families Health & Resource Fair on Saturday Aug. 11 from 9 a.m.-1 p.m. at Grace Hill Water Tower Hub (2126 E. Grand Ave.), teaming with Grace Hill and Affinia Healthcare to provide free on-site health and community services to those in the greater North St. Louis City area.
Families had access to health services including back-to-school and sports physicals, vaccinations, well-women and prenatal exams, and children's haircuts. Attendees also had the opportunity to meet with job resume and interviewing consultants, get legal advice, learned wellness and nutrition tips, received housing assistance, and learned sustainable gardening tips from Missouri Botanical Gardens.
JLSL also presented the internationally acclaimed Kids in the Kitchen program, aimed to teach kids healthy eating and exercise to tackle issues of poverty, food access and community development.
Last year, more than 600 people attended the event, and JLSL hopes to reach even more people this year. "The cornerstone of the Junior League of St. Louis' community impact is our annual Strong Women & Families Health & Resource Fair, which brings the best St. Louis services and community resources to our North City neighbors," said Carrie Gallagher Crompton, 2018-2020 President. "Children receive back-to-school physicals. Caregivers and adult attendees receive interview tips and a new suit to nail that interview. The JLSL offers a one-stop-shop resource fair to make all services and resources accessible that day."
JLSL partnered with more than 60 vendors, including Shriner's Hospital, Connections to Success, Books for STL Kids, Prosperity Connections, Grace Hill Head Start, St. Louis Community College, Missouri Botanical Garden, and UMSL College of Optometry. In addition to receiving on-site services, attendees were entered for giveaways including a limited supply of lunches for children, limited supply of school supplies and baby supplies.
"In our ninth year, we are honored to have been such an important part of our community," said Gallagher Crompton. "We are looking forward to this year's event and our 10-year anniversary in 2019. We are thankful for the numerous nonprofits who donate their time, talents and treasures each and every year to make this event such a success."
Youth resources were available including back-to-school physicals for children and teens; immunizations; sports physicals; eye exams; audiology exams; orthopedic screenings; Medicaid-covered dental exams and cleanings; and information and appointment scheduling as needed for behavioral health.
Adult resources available included eye exams; audiology exams; Medicaid-covered dental exams; blood pressure screenings; OB-GYN exams for pregnant women; well-woman visits; appointment scheduling for free mammograms; acute and chronic disease education; stress management sessions; information and appointment scheduling for behavioral health and substance abuse; and health insurance application assistance.