Leadership Development Series: Strategic Planning: Decide Your Strategy – Nov. 29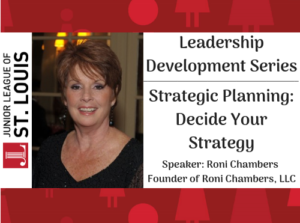 Join the Junior League of St. Louis as we welcome Roni Chambers, Founder of Roni Chambers, LLC and Possibilitarian.
Roni Chambers has built a career by putting People first for more than 2 decades. After helming a series of entrepreneurial enterprises in her native Florida, Roni joined corporate America where she honed her Human Resource expertise in various departments at Anheuser-Busch and its subsidiaries across the country. She later served as volunteer Director for GO! Network, a nonprofit dedicated to helping unemployed individuals find work, re-igniting her appetite for providing one-on-one consultation to those seeking, yet unprepared for, a career change. In 2013 she launched Career Innovation Partners to guide individuals toward new career possibilities and in 2016 Roni re-branded, launched a new website and new tools. Through a unique program of in-depth, self-assessment, Roni helps her clients identify their unique value proposition and steers them toward a fully-engaged, fulfilling path. In her free time, Roni can be found in the company of her beautiful family, which includes several horses.
Leadership Development Series Classes are offered to Non-Junior League of St. Louis members for a fee of $20.
JLSL members: please log in and register through the member calendar.