Leadership Development Series – Organizational Development / Emotions at Work: Unleashing the Secret Power of Emotional Intelligence – March 5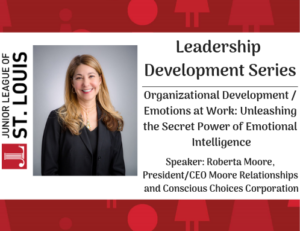 Join the Junior League of St. Louis as we welcome Roberta Moore, President/CEO of Moore Relationships and Conscious Choices Corporation.
As an accomplished business executive and licensed therapist, Roberta helps clients balance financial and business demands with the most important relationships in their lives. Roberta specializes in the following areas: relationships, self-actualization, leadership, and family issues that impact career development. She also assists clients in developing their financial, emotional, and spiritual integrity. Roberta's mission is to help people understand that healthy relationships start from having healthy boundaries and good social competency and interpersonal relationship skills such as empathy, compassion, and understanding. Balancing these attributes with emotional intelligence skills can help develop reciprocity and mutuality in all relationships, whether at work or at home. Roberta started Conscious Choices Corporation in 2002 for the purpose of helping people create clarity out of chaos in their personal lives.
In 2014 Roberta launched Moore Relationships and expanded services to include: executive relationship consulting for professionals, executives, entrepreneurs and other leaders who work for small businesses and middle market companies. Moore Relationships also provides Emotional Intelligence assessments, training and development using the EQI 2.0 and the EQI 360 as a framework. Roberta has a special interest in entrepreneurism and its effects on relationships.
Leadership Development Series Classes are offered to Non-Junior League of St. Louis members for a fee of $20.
JLSL members: please log in and register through the member calendar.