Leadership Development Series – The Art of Mentoring – Oct. 24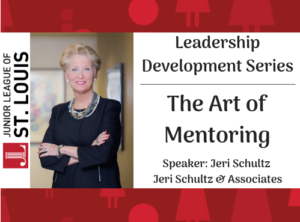 Join the Junior League of St. Louis as we welcome Jeri Schultz from Jeri Shultz & Associates.
At a time when women were simply not part of the business management landscape, Jeri M. Schultz was a trailblazer. She served as a buying executive for May, Famous Barr and Saks Fifth Avenue stores in St. Louis while in her 20s.
Then she applied her superb retail sense to the art of learning and coaching. She obtained her master's degree in business management and for 30 years has been on faculty and leadership teams with Webster, Lindenwood, Maryville and Fontbonne universities.
Today, Jeri is a leadership and professional development executive with a unique toolbox for teaching change leadership, and promoting women's and diversity issues. She serves as a consultant to numerous St. Louis-area businesses and Fortune 500 companies, which apply her core leadership techniques to improve their results and their organizational teamwork.
Jeri also leads by example, having been mentor, sponsor and advocate to thousands of people—especially women—through the years. She shares her ideas through one-on-one counseling, seminars, keynote addresses and presentations.
As someone who started out typically the only female in an all-male conference room, Jeri has never been afraid to ask a simple question to get a conversation started: "Would you like to be my friend?" Her accessibility, spirit of collaboration and amazing collection of business sources and resources earned Jeri her well-respected nickname — "The Connector."
Leadership Development Series Classes are offered to Non-Junior League of St. Louis members for a fee of $20.
JLSL members: please log in and register through the member calendar.