Leadership Development Series: Advocacy: Progressing Change – Feb. 12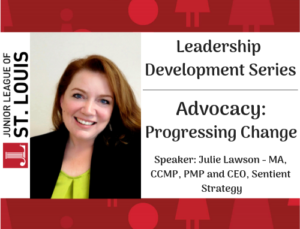 Join the Junior League of St. Louis as we welcome Julie Lawson – MA, CCMP, PMP and CEO of Sentient Strategy.
Julie Lawson has more than 20 years' experience in nonprofit executive leadership culminating in her recently-established firm, Sentient Strategy. She has served as Executive Director of the Crime Victim Advocacy Center, Missouri Supreme Court Commission on Racial and Ethnic Fairness, the Women's Foundation of Greater St. Louis, the Kansas City Youth Symphony, and Connected Learning (St. Louis). In addition to a long career in nonprofits, Julie has 15 years' experience as a leadership development consultant and specializes in women's leadership initiatives. She trains for several Fortune 500 companies including St. Louis-based Emerson.
Julie is certified in facilitation, project management, a variety of leadership testing methods and holds her change management certification from Cornell University. She holds two advanced degrees in organizational psychology and communications and a bachelor's degree in Media. Julie is a frequent speaker on a variety of subjects related to the importance of resiliency and emotional intelligence.
Julie spent many years working with victims of crisis and trauma and is considered a national expert in terrorism victimization by the Department of Justice. She is a certified trainer in cultural competency for the U.S. Department of Justice, is a certified restorative justice practitioner, and a Certified Crisis Responder for the National Organization for Victims Assistance.
In addition to her clients at Sentient Strategy, Julie is finalizing "The Inner Warriors: 7 Steps to Resiliency" due to publish in Summer 2019.
Leadership Development Series Classes are offered to Non-Junior League of St. Louis members for a fee of $20.
JLSL members: please log in and register through the member calendar.