Helping Our Smallest THRIVE Symposium: Why St. Louis Loses Babies Each Year – April 2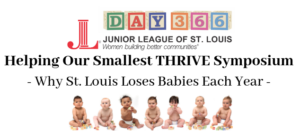 Most people in St. Louis are stunned to learn that we have an infant mortality rate that is double the national average. They are further stunned to learn some of the reasons WHY. This issue is often neglected and not talked about, however, the implications of losing babies has a profound effect on the community. When babies aren't healthy, the community isn't healthy. Join us to connect with fellow experts, advocates and others as we learn more about WHY St. Louis has such a high infant mortality rate and what we can do to bring about real change. We will be discussing issues of racial inequities in care, healthy pregnancies and births and safe sleep practices that have a profound effect on our babies.
Panelists:
Vikki Collier, Executive Director, Infant Loss Resources
Dr. Sarah Huisman, Fontbonne University
Brittany 'Tru' Kellman, Jamaa Birth Village
Dr. Melissa Tepe, MD, MPH, Chief Medical Officer of Affinia Healthcare
Additional panelists will be announced as they are confirmed.
This panel will be moderated and followed by a Q&A session.
This symposium is free but registration is required. Light refreshments will be provided.
Special thanks to Fontbonne University for hosting this event.