Eat Pizza to Raise Some Dough – Nov. 13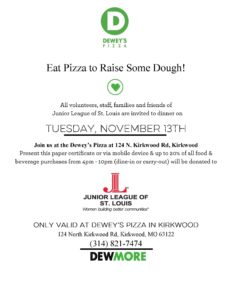 Show Dewey's Kirkwood this page and they will donate up to 20% of all food and beverage purchases from 4-10 p.m., dine-in or carry out! The event image must be shown for JLSL to receive the donation.
Don't forget to share this event and invite your friends and family!
This is only valid at the Dewey's in Kirkwood located at 124 N. Kirkwood Rd., Kirkwood. (314) 821-7474